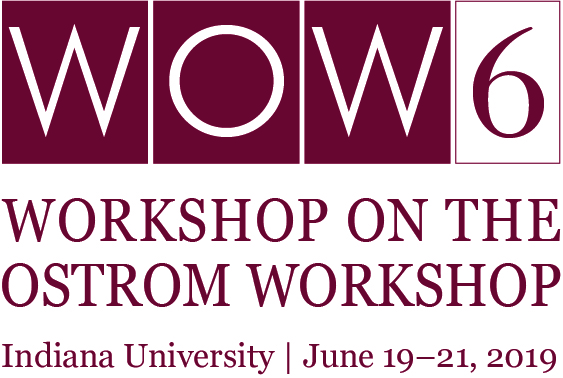 Welcome!
The Ostrom Workshop invites you to join us June 19–21, 2019, in Bloomington, Indiana, for the sixth Workshop on the Ostrom Workshop (WOW) conference, "Governance: Past, Present, and Future." William Blomquist, Professor of Political Science and Adjunct Professor of Public & Environmental Affairs at IUPUI, is the conference chair.
The conference venue for WOW6 will be the Indiana Memorial Union (IMU) on the beautiful campus of Indiana University Bloomington.
We are pleased to announce Thráinn Eggertsson, professor of economics at University of Iceland and Hertie School of Governance in Berlin, as our keynote speaker.
About the conference
Held every five years since 1994, the WOW conference enables researchers, students, and alumni from the Ostrom Workshop to reconnect for presentations and discussions of their work and areas of common interest (see previous WOW conference papers/websites).
From governing metropolitan areas to governing the commons and beyond, scholars and students at or influenced by the Ostrom Workshop have been interested in governance. This interest in governance has been pursued and advanced from many disciplinary perspectives, and it has been applied to a multitude of topics, problems, and situations—including domains such as cyberspace and challenges such as climate change, of which only a few were even dimly aware when the Ostrom Workshop was founded.
As we gather in Bloomington in June 2019 for WOW6, please join us in the discussion of this theme—Governance: Past, Present, and Future. It will be an opportunity for all of us to see and enjoy the vast range of topics and approaches relating to that theme, and how the study of governance has evolved and continues to evolve across our worldwide community of colleagues. We aim to assemble a program that will incorporate diverse theoretical, methodological, and empirical inquiries. Presentations and panels will span from social-ecological landscapes in the Amazon to diversity in collective action, and collaborative governance in municipalities to theoretical foundations of polycentric governance.
About IU Bloomington
Founded in 1820, Indiana University Bloomington is the flagship campus of IU's seven campuses and two regional centers statewide. As of Fall 2018, more than 40,000 students attend IU Bloomington. The campus is a blend of traditional and modern architecture with verdant grounds, limestone buildings, and cycling and walking trails, and is consistently recognized as one of the most beautiful college campuses in the United States.
Indiana University has drawn people from all over the world to Bloomington, contributing incredible cultural diversity to our community. The influence of these cultures is most celebrated in our culinary scene, with an unexpected abundance and quality of global cuisine.